We know you're busy and focused on the challenges of running your business – product design, customer acquisition, marketing activities and more. At Broadrange Logistics, warehousing, distribution and e-fulfillment is our business and our core competency. Our facilities and processes were developed based on decades of experience – so leave that part of your operations to us while you focus on profitably growing your business.
Outsourcing e-Commerce logistics to Broadrange Logistics gives you more accurate, timely, and cost-efficient fulfillment. The customized approach at Broadrange Logistics will meet the needs of any unique business and customer base.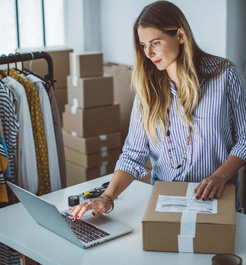 E-Fulfillment solutions that strengthen the continuity of your growing business model.
The Services and
Pricing you Need
From pallets to beautifully gift wrapped packages, we provide a streamlined, single-source solution that optimizes the supply chain across all channels for brands in both the direct-to-consumer and wholesale arenas. By leveraging a unique combination of people and technology, our customized approach accurately aligns your organization's multi-channel support with the high expectations of today's marketplace. Whether your needs are simple or complex, we offer the services and pricing you need.