BroadRange Logistics Breaks Into The Inc. 5000 List Ranking No. 163 Overall and No. 6 in Logistics & Transportation Nationwide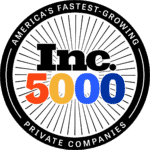 FOREST PARK, GA, Aug 22, 2023 – BroadRange Logistics, an ultra-flexible end-to-end warehousing-focused supply chain company, is delighted to announce its debut on the esteemed Inc. 5000 list of America's fastest-growing private companies, securing a remarkable No. 163 spot.
This notable recognition marks BroadRange Logistics's first appearance on the list, reinforcing its position as a premier provider of ultra-flexible warehousing, overflow and ecommerce fulfillment services. Further amplifying its achievement, BroadRange Logistics has also clinched the No. 6 spot both in the logistics and transportation sector nationwide, and for all the private businesses within the state of Georgia.
"We couldn't be more excited to see our tireless efforts and strategic growth acknowledged by the Inc. 5000," said Ari Milstein, CEO of BroadRange Logistics. "It is an incredible acknowledgement of our successful business development, teamwork, and the exceptional client value creation our ultra flexible supply chain services provide. I am more proud of the testament to the dedication, passion, and extraordinary level of client service that our world class team at BroadRange Logistics embodies 24/7. Our growth is a direct result of this incredible Broadrange team as well as our innovative strategies, which have catapulted BroadRange to a leadership position in the supply chain industry.
BroadRange Logistics's impressive standings on the Inc. 5000 list underscore the company's strong growth trajectory, visionary strategy, and unwavering dedication to ensuring customer success. This tenet of ultra flexibility for all types and sizes of customers allows BroadRange Logistics to win when their customers win.
About BroadRange Logistics
BroadRange Logistics is an industry-leading end-to-end provider of ultra-flexible warehousing and fulfillment services. Serving businesses of all sizes, BroadRange Logistics offers comprehensive short-and-long-term solutions, enabling companies to effortlessly navigate the intricacies of supply chain management, including warehousing, fulfillment, and other value-added services.
For more information about BroadRange Logistics, visit: www.BroadRangeLogistics.com
For PR inquiries, contact:
Jan Jones,
Senior Vice President, Sales & Marketing
[email protected]